Blog
Styles of bridal bouquets
When it comes to wedding florals, probably the most important flowers you will choose are for your wedding bouquet. The latter will not only take center stage on your big day but will be immortalized in your wedding photographs too. Choosing your wedding bouquet is never a trivial matter, and with so many styles to choose from, it is easy to feel overwhelmed. But one thing to keep in mind, your bridal bouquet should complement your gown and ceremony style. While different wedding styles are growing in popularity over the years, we still see a few favorites types of bouquets consistently.
From classic round bridal bouquets to distinctive cascading arrangements, we will guide you through the choices of the most iconic bridal bouquets.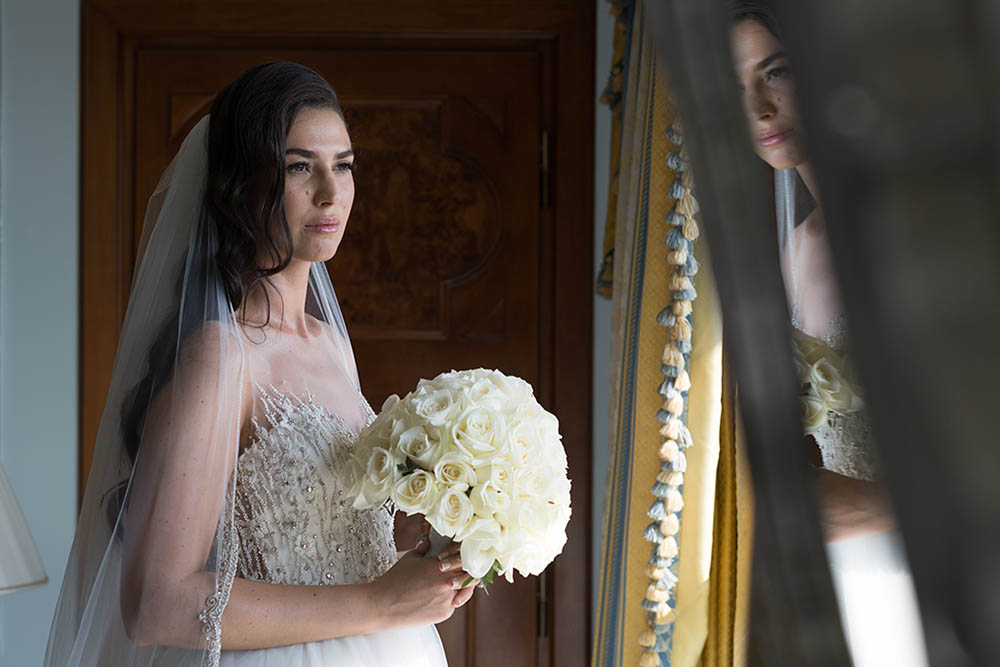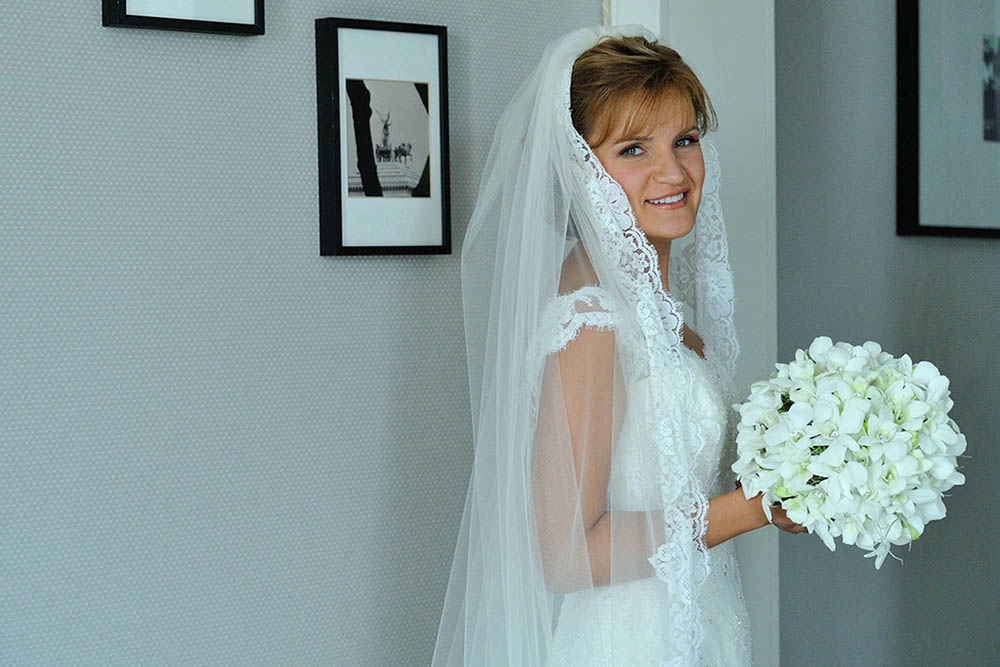 Round
The most traditional bouquet! If you are thinking of wearing a princess ball gown and will go for a classic, formal wedding, then a round bouquet is your best friend.
As the name implies, the bouquet puts a lot of emphasis on the round shape. As a result, they are often monochromatic and typically consist of a single type of floral with a rounded bloom like roses, anemones, or peonies arranged in a perfect dome. They also look best kept to a moderate-to-small size. Stems are wrapped tightly with a silk ribbon or an organza ribbon, sometimes embellished with pearl pins and beading trims.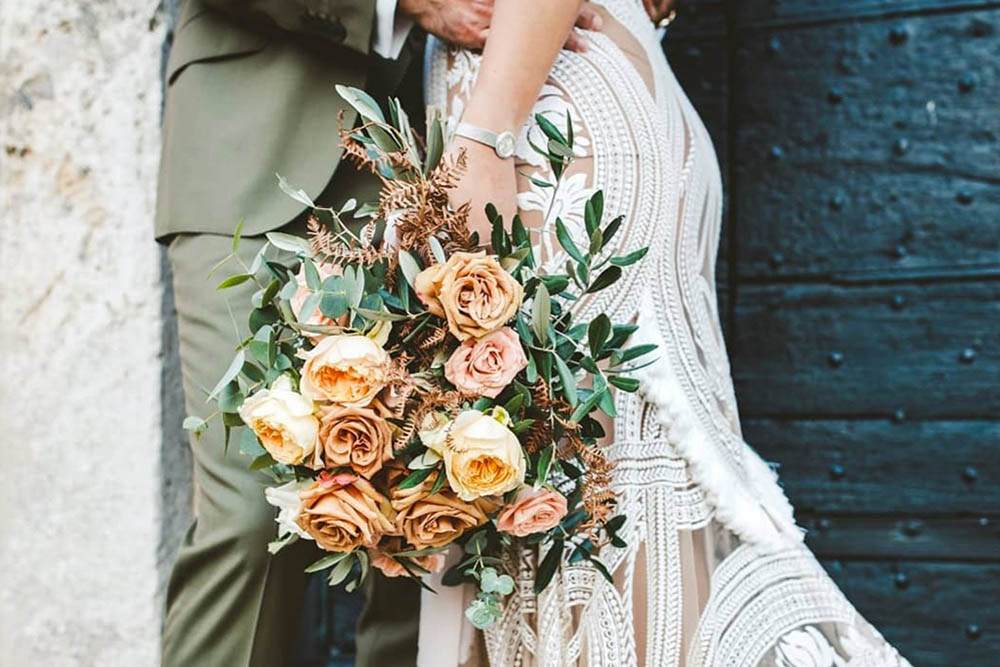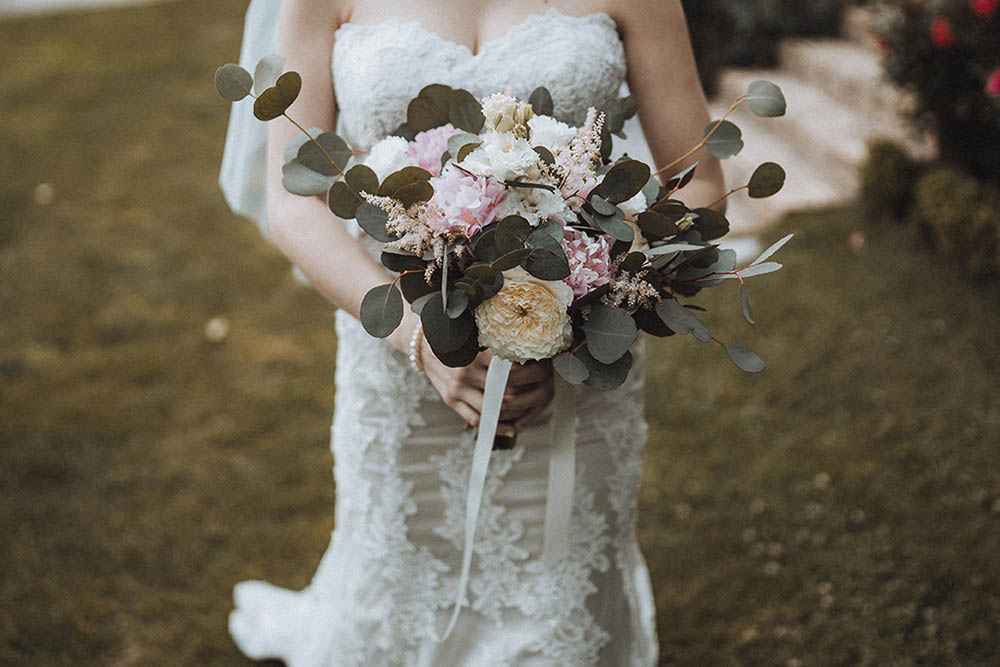 The hand-tied bouquets
Hand-tied bouquets look exactly how they sound: a wide assortment of flowers and greenery is tied together with ribbon, leaving the stems showing at the bottom to give a loose and wild aesthetic look. These bouquets are popular with modern brides because of the natural "fresh-picked flower" feel. They are perfect for bohemian, rustic, or garden weddings. Almost any flower and greenery can be used in this type of bouquet, but the most popular choices are dusty miller, eucalyptus, vines, sweet pea, dahlias, delphiniums, peonies, ranunculus, and veronicas.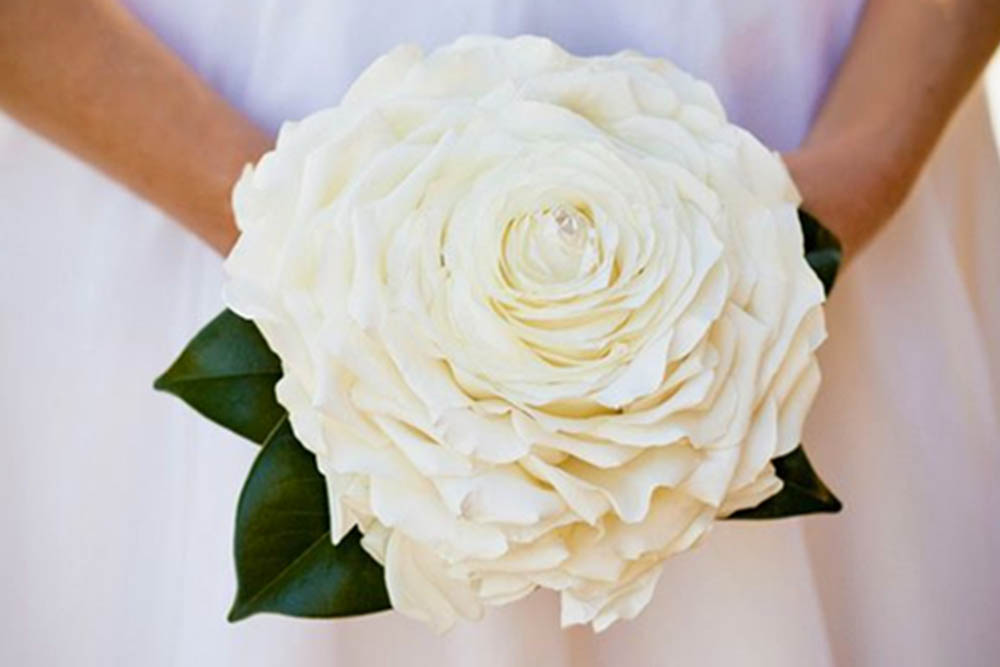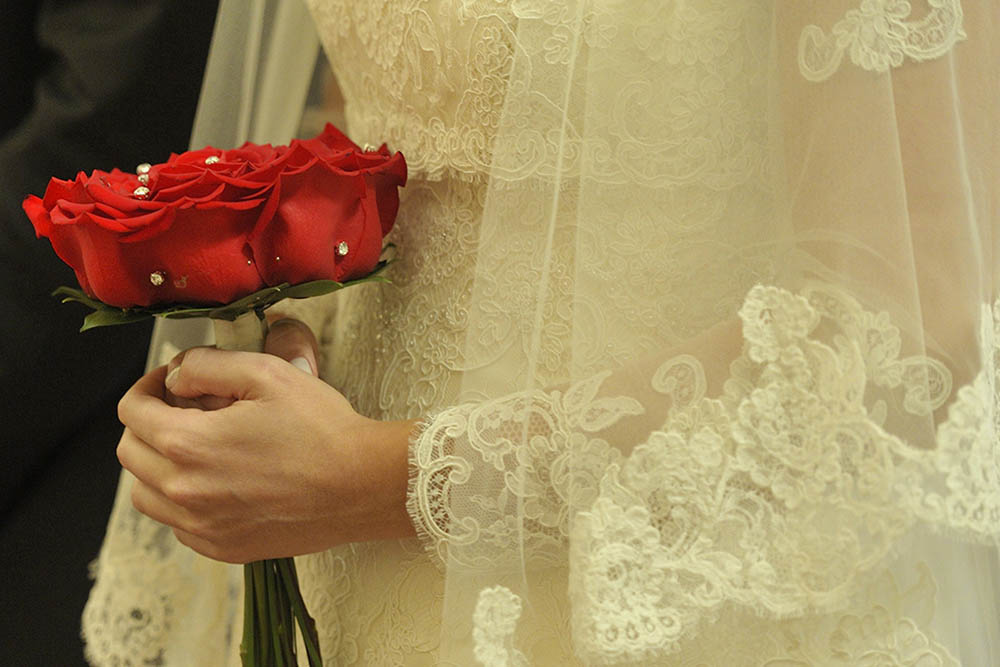 Composite bouquet
The Composite flower bouquet, also known as Carmen Rose, is one of the more modern types of a bridal bouquet. A series of individual petals are patiently wired together in an arrangement that looks like one single, large flower (mostly a rose or a dahlia). Larger than life romantic, it seems simplistic in design but is graceful and elegant. It works perfectly with intimate but sophisticated weddings. If you like a sleek look with a significant impact and price is not an issue, this bouquet is for you! And because it is not easy to find an experienced florist who can do it, it may come at a high price.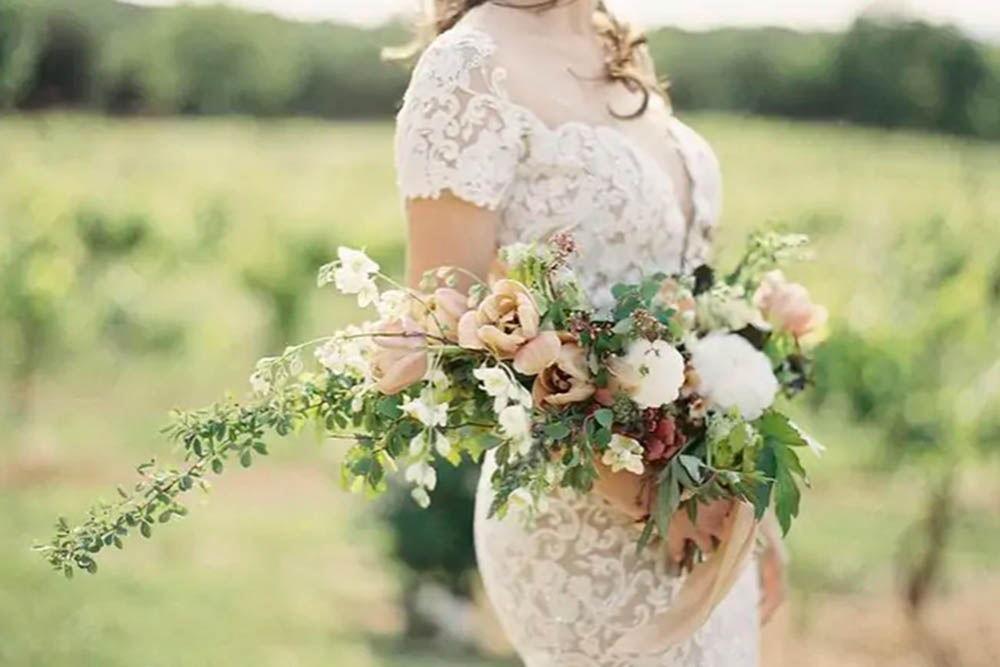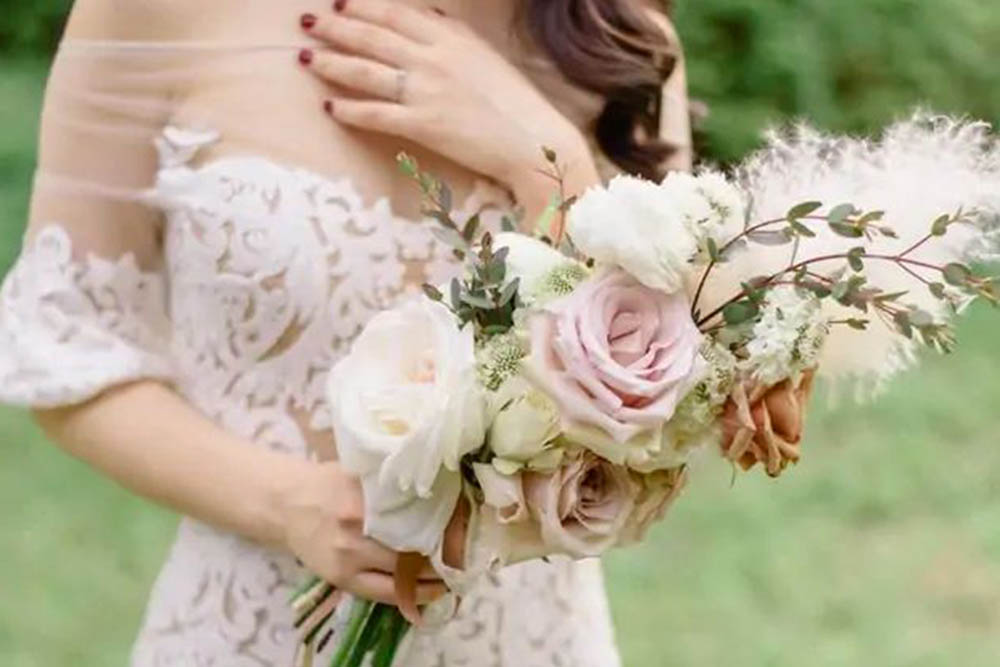 Pageant bouquet or presentation bouquet
Also called pageant or arm bouquets, this bouquet style typically features long-stemmed flowers such as calla lilies, sunflowers, orchids, designed to be resting in the bride's arms rather than held in her hands like with other bouquets. Yet we see a more modern look with florists creating them with long flowering branches, such as cherry blossoms. In fact, this type of bouquet can be made modestly for a simple and chic look or elaborately designed for a lavish and regal look.
Pageant bouquets are gaining popularity in modern Boho weddings. They make for stunning photos and suit better a tall bride with a streamlined or A-line dress. However, as they might not be practical for walking down the aisle, this type of bouquet should fit easily into the crook of the bride's arm so she can carry it effortlessly.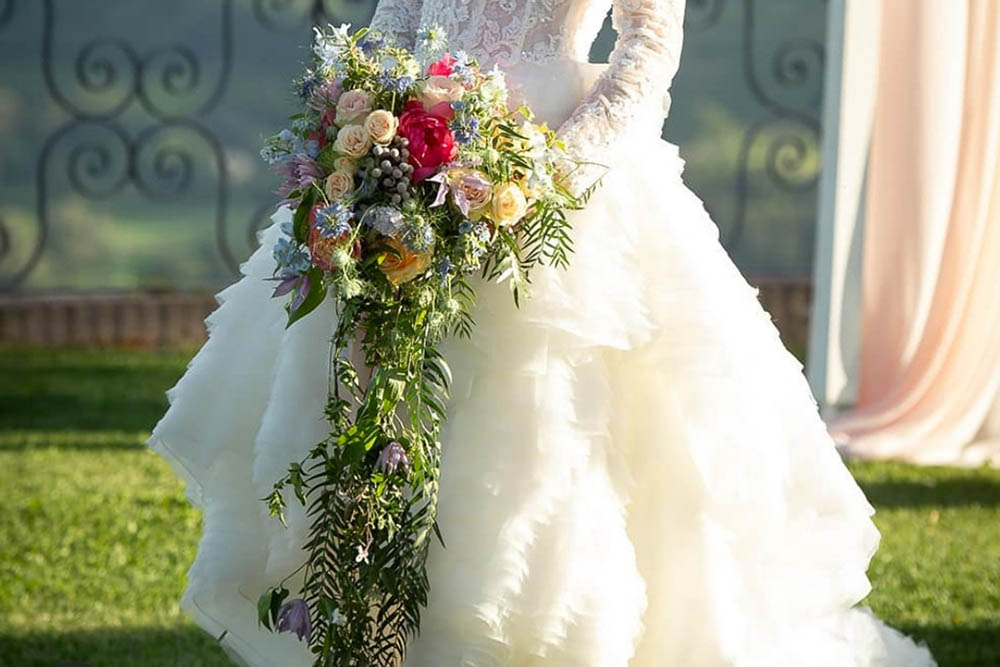 Cascading
The Cascade wedding bouquets, also referred to as" shower bouquets," are perhaps the most formal and traditional bouquet style. They are designed with an abundance of overflowing flowers "cascading" down. This "cascading" style was made famous by Princess Diana in the 1980s. Voluminous and lengthy, this bouquet does require many flowers for a full look. All types of flowers, from garden roses to lilies, can be used. It also works well with exotic flowers such as orchids and amaranths -though recent cascade trends have adopted a rustic feel with the addition of vines and wildflowers. The overall dramatic effect of a cascade bouquet makes it the perfect fit for a formal vow exchange at a classy cathedral or stunning ballroom wedding. Super feminine and fairytale-like, this kind of bouquet makes a strong style statement, so it does not typically pair well with super elaborate wedding gowns. Instead, make sure to keep your wedding dress and other accessories reasonably simple.
Often, the season, location, the theme of the wedding can help determine the right choice of your bouquet. The most important thing is that you love your bridal bouquet. Just like your wedding gown, make it a personal choice. It should accent your dress, your personality and reflect your individual style. And remember, when ordering flowers for your wedding, you will want one for each of your bridesmaids. Consider also having a small, inexpensive throw bouquet that mimics your larger bridal bouquet instead of tossing the real deal, as the actual one might be heavy or too elaborated.